At about 5:15 PM yesterday, the Sheriff's Office received a 911 call from Brooke Warner stating she was at a house in the 5400 block of Rocky Ridge Road with a male who had pulled a gun on her. She said she and her brother had the male detained but feared the male had killed her husband. When deputies arrived at the home, two people were found deceased.
The house belongs to Sandra Wallace. She lived in the home with one of her sons, 49 year-old Milo Wallace. She had a younger son, Matthew Wallace who lived in Cameron Park.
Earlier in the day, Matt Wallace drove up to assist with some work that needed to be done around the house. When Matt didn't come home, his wife, Brooke Warner, drove to the Rocky Ridge Road address because she wasn't able to contact him. Brooke took her brother along because of some tension between the two Wallace brothers over future inheritance of the family estate.
At the house, Brooke knocked on the door and was met by her brother-in-law Milo. Milo was armed with a gun and pointed it at her. A scuffle ensued and Brooke and her brother were able to get the gun away from Milo. They detained Milo until sheriff's deputies arrived.
Deputies found an elderly female dead inside the home and an adult male dead outside, behind the house. Once the area was secured, detectives and CSI were called to investigate. Coroner's detectives also responded.
Detectives detained Milo Wallace for questioning. Detectives and CSI personnel spent the night at the house and are still on the property collecting evidence.
At about 1:40 AM this morning, detectives arrested Milo Wallace on murder and assault with a deadly weapon charges. He was taken and booked into the El Dorado County Jail and is being held without bail.
The two victims were identified this afternoon as 71 year-old Sandra Wallace and 38 year-old Matthew Wallace. Both suffered gunshot wounds however the official cause of death will be determined later after a forensic autopsy. The circumstances leading to up to their deaths and how they occurred has yet to be determined and is still under investigation.
Lt. Tom Murdoch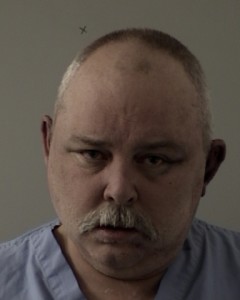 Booking photo of Milo Wallace