For Immediate Release
Lieutenant Jim Byers
Road Rage Incident
On April 7th, 2016 at 7:22 pm, the El Dorado County Sheriff's Office received multiple 911 calls reporting gunshots and tires screeching in the Mar Val Market parking lot in Georgetown, and additional calls reporting a truck racing around the parking lot, possibly firing a gun.
As Deputies were responding to the area, a man reported a road rage incident and told dispatchers that he had been chased by two vehicles and possibly shot at.
When Deputies arrived at scene, they determined that multiple shots had been fired at the man, and through the course of their investigation, they able to identify 40 year old Joseph Ray Messer of Diamond Springs as one of the suspects.
On April 8th, at 5:35 pm Messer was seen leaving a known residence he frequented in Diamond Springs in a truck matching the description of the one seen during the Mar Val Market incident.  Messer was stopped by Deputies and arrested without incident.
Messer was booked into the county jail on charges of armed robbery and has a parole hold.
Anyone with information regarding this incident can call (530)621-6600.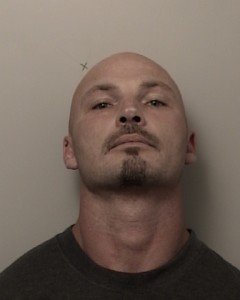 Joseph Ray Messer, DOB 3/21/76