For Immediate Release
Sergeant Tasha Thompson
The El Dorado County Sheriff's Office is looking for Kimberly Gillespie who went missing in the Pollock Pines area around 7/8/16.  She is 42 years old, deaf and has other disabilities that affect her memory and mobility .  She was last seen possibly walking in a rural area east of Pollock Pines.  She is a white female adult,  5'2″ tall and weighs approximately 140 pounds.  Kimberly has brown hair and brown eyes.  She was last seen wearing a sleeveless shirt, blue jeans and tennis shoes.  If anyone has any information regarding her possible location or condition, please call Detective Simon Brown with the El Dorado County Sheriff's Investigations Division at 530-642-4717.
EDSO case # EG16-6224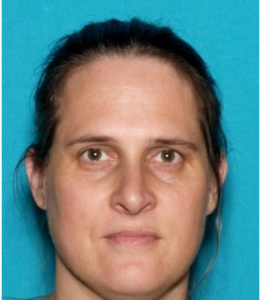 Missing Person – Kimberly Gillespie.