Lt Jim Byers
06/06/17 at 9:00pm
On 06/6/17 at about 4:30 PM a white male parked a newer white Ford F150 in front of the Golden One Credit Union in Town Center.  A white male exited the vehicle wearing a hard hat, sunglasses, full respirator and reflective green vest.  The male entered the bank with a gun and then for an unknown reason quickly left the building.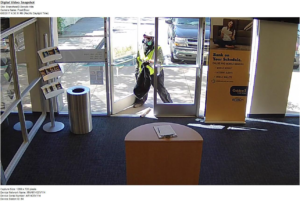 A few minutes later, the white F150 parked in front of the Bank of America in the La Borgata shopping center in El Dorado Hills.  The same white male exited the vehicle, wearing the same disguise, and entered the bank. The male brandished a firearm and demanded an undisclosed amount of money from the teller.  The suspect exited the building and fled in his awaiting vehicle.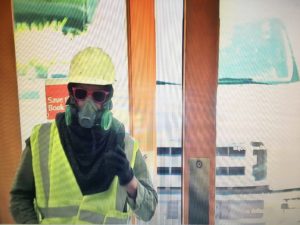 If you saw this subject or his vehicle either before or after the robbery or can help identify the male, please call El Dorado County Sheriff Detective Simon Brown.
Detective Simon Brown
Phone 530 642 4717