On 4/28/15 at about 6:00 PM, deputies were dispatched to a battery in progress in the 3400 block of Tah Nee Way in El Dorado Hills. The caller stated two male adults had been in a fight and one was seriously injured.
At the scene, deputies contacted the involved parties. One was inside the house and the other was outside. One person had obvious injuries that required medical attention. Medics who had staged down the street were called-in for medical aid. The adult male who was injured stated he had been punched by 54 year- old Douglas Hus.
The injured male told deputies he was at a home he and his wife just sold with a realtor when his wife drove up. His wife was followed to the home by another motorist, identified as Douglas Hus. Douglas Hus is her previous spouse. In the driveway, the victim stated Hus was confrontational with his wife and he stepped between them. During a heated exchange, Hus unexpectedly hit him.
Deputies interviewed Douglas Hus who was still at the scene. Witnesses were also interviewed and the victim's injuries were photographed. The victim told the deputies he wanted Hus arrested.
At about 6:50 PM, deputies arrested Douglas Huss for Battery with Serious Bodily Injury, a felony, and transported to the El Dorado County Jail. He is still in custody.
Lt. Tom Murdoch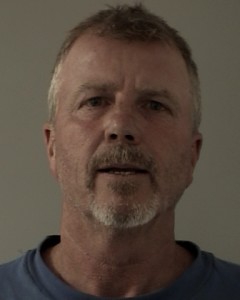 Booking photo of Douglas Hus