On April 18, 2015, El Dorado County Sheriff's Explorer POST 457 hosted its first Regional Training Day. Event participates included the Elk Grove Police Department Explorer POST 625 and Roseville Police Department Explorer POST 108. This event was a HUGE success, with over 125 participants.
Explorers participated in four training event scenarios giving each explorer the opportunity to test their skills in real life situations.
Tubular assaults (mass transit bus assault)
Explorers practiced a safe way to approach a bus with suspect(s) and victim(s) on board. A plan was established by the team to safely enter the bus, contact suspect(s) and remove victim(s), along with understanding the basic operations of a standard bus.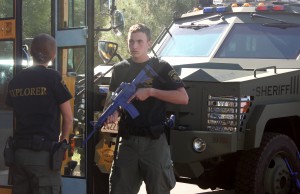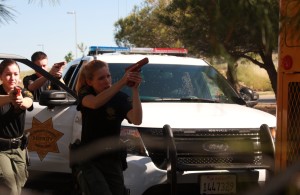 Officer Down
Explorers were instructed on officer rescues during a building entry when an officer is injured or assaulted during contact with suspect(s). Explorers determine the best coverage, thinking under stress and removal of the downed officer to the safest location, while providing cover or contact with suspect(s).
Felony Traffic Stop
Explorers were instructed on proper felony traffic stops, communication with other explorers to convey a successful outcome of removing suspect(s) from the vehicle, covering fellow explorers and properly searching once all suspect/subjects have been removed from the vehicle.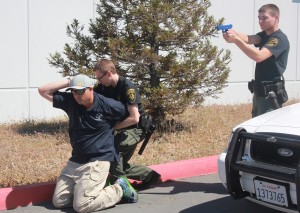 Building Clearing
Explorers responded to a potentially dangerous domestic situation, with armed suspect(s). Explorers were tasked with officer safety, recognition of criminal activity, and situation resolution all while engaging with Special Impact Munitions (SIM) training systems for a realistic environment.
Special thanks to El Dorado County Sheriff John D'Agostini and Undersheriff Randy Peshon, El Dorado County Sheriff Explorer Advisors, El Dorado County Sheriff SWAT Team, El Dorado County Special Enforcement Detail (SED) Team, Department of Corrections SSU Team and the Drug Enforcement Administration (DEA) for organizing an outstanding experience for the Explorers that participated in this year's Regional Training Day. Thank you to all advisors from other agencies, volunteers, instructors and sponsors who helped make this regional training day possible. Plans are already underway for the EDSO Explorer Regional Training Day 2016.
Event sponsors – Sierra Gun Exchange, Kitchell construction, El Dorado Hills Brazilian Jujitsu, Foothill 7 TV and Dynamic Designs.
The Explorer Post is able to compete in and travel to these types of events with the help of donations from the public, and a lot of hard work the post puts into community service and fundraising.
Law enforcement explorer post programs are sponsored by their affiliated law enforcement agency and Learning for Life, a subsidiary of the Boy Scouts of America. It is a career education program for young men and women who are 14 (completed the eighth grade) through 20 years old. Exploring's purpose is to provide experience that helps young people mature and prepare to become responsible and caring adults.
Explorers are ready to investigate the meaning of interdependence in their personal relationships and communities. Exploring is based on a unique and dynamic relationship between youth and the organizations in their communities. Local community organizations initiate a specific Explorer post by matching their people and program resources to the interests of young people in the community. The goal of the Sheriff's Office Explorer program is to help youths pursue and further their special interest in Law Enforcement.
If you are interested in becoming an Explorer or if you would like to support our POST through a donation please contact an Advisor at 530-642-4733 or email explorers@edso.org, www.service-life.com/ca/edso