For Immediate Release
Sergeant Tasha Thompson
On January 27, 2017, at approximately 1:00 PM, an El Dorado County resident was walking on the bike trail, located near Missouri Flat Road, with her child in a stroller.  A male approached her from behind and asked her about the location of a nearby business. The male asked for a dollar and asked to shake her hand after she gave the dollar to him. When the male grabbed a hold of her hand, he pulled her in close and used his other hand to sexually assault her. The male continued to hold on to her as she screamed for help and began fighting back. He then released her, apologized, and ran south from the trail. While running away, the male lost his shoe which was later collected by the Sheriff's Office.
The male is described as being 14 to 20 years old, a dark skinned Hispanic, standing approximately 5'7" tall and weighing 130 pounds. The male had dark hair and brown eyes. The male's hair was described as messy, with two to three inches in length that stood straight up. The male was wearing a "sky blue" short sleeved polo shirt, blue jeans and red Nike shoes.
UPDATE: 02/14/17 at 0830 hours:
A composite sketch has been completed with information provided by the victim.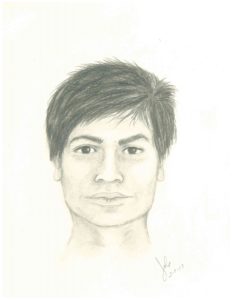 The El Dorado County Sheriff's Office is asking for the communities help in identifying this person. If the description sounds familiar to a person you know, please contact Detective Anthony Prencipe at (530) 642-4709.  Detectives are currently reviewing video surveillance in the area and hope to provide a picture of the person in the future.