PRESS RELEASE
May 11,1027        12:40 PM
Sgt. M. Seligsohn
The El Dorado County Sheriff Office has identified Suspect Travis Eriksen as being responsible for the homicide which occurred on Forni Road on May 10, 2016. The investigation lead deputies to a home located on Lindberg Avenue where it is suspected Eriksen is hiding.
The Sheriff's Office SWAT Team is currently deployed at the residence and attempting to take Eriksen into custody.
Presently, Lindberg Avenue, Chestnut Street and Betty Jean Court are closed to travel.
UPDATE 5/11/17 10.20 pm
Lt. Jim Byers
At 6:50 pm tonight, suspect Travis Eriksen was taken into custody after SWAT members introduced gas into the residence on Lindberg Avenue, where Eriksen was barricaded.  Eriksen will booked into the County Jail on charges of murder.
A booking photo of Eriksen will be added in an additional update at a later time.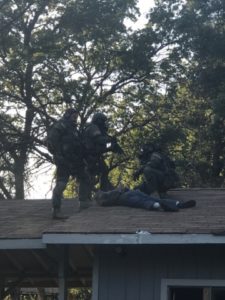 UPDATE   5/12/17  8:15am
Lt Jim Byers
The victim in this homicide has been identified as 43 year old David Franklin Meade, a resident of El Dorado.  Meade and Eriksen were known acquaintances and this was not a random incident.